Gordon Quinn - Alice Neel
Prisoner of Her Past - New York City Premiere
April 7, 2011 - 6:30pm
The Museum of Jewish Heritage, New York City, NY
The Museum of Jewish Heritage presents the New York City Premiere of Prisoner of Her Past.

On the night of February 15, 2001, Sonia Reich fled her home in Skokie, Illinois, insisting that someone was trying to kill her -- to "put a bullet in [her] head," she told anyone who would listen. It would take a year for her son, Chicago Tribune journalist Howard Reich, to understand why she was running the streets of Skokie, fearing for her life.

Prisoner of Her Past tracks Howard's journey across the United States and Eastern Europe to discover why his mother believes - to this day - that the world has conspired to try to execute her.

As Howard eventually learned, Sonia has late-onset Post-Traumatic Stress Disorder, a little-known but extremely debilitating illness that has pushed her into the realm of delusion. At the same time, however, Sonia remains fully aware of her surroundings, totally alert to the world, thoroughly cognizant of the present.

She has no hints of Alzheimer's disease or any form of dementia. On the contrary, as one doctor told Howard, "Dementia would be a relief for your mother, because then she wouldn't remember."

Unfortunately, Sonia's horrific childhood fleeing the Nazis -- about which she told Howard virtually nothing when he was growing up -- has come back to haunt her. She believes that yellow Stars of David have been sewn to her clothes, that doctors and nurses are trying to poison her, that her grandchildren have been taken away.

Past and present merge in Sonia's perceptions, and Howard sets out to discover why. He locates the few experts in the world who can explain the obscure phenomenon of late-onset PTSD, and he travels to the city of Sonia's birth, in Ukraine, to uncover the horrors that now haunt his mother.

But Prisoner of Her Past ventures beyond Sonia's story, to show what can be done to help traumatized children today. The film looks in particular at the victims of Hurricane Katrina in New Orleans, an area of special interest to Howard, who's the Chicago Tribune's jazz critic. Some are benefiting from psychiatric awareness and techniques unavailable when Sonia and children of her generation were shattered.

Prisoner of Her Past makes it clear that if childhood trauma victims, from New Orleans to Darfur, are not helped, they will be retracing Sonia's steps 60 years from now.

A discussion will follow the screening, with filmmakers
Gordon Quinn
and
Howard Reich
, and special guest
Yuval Neria, PhD
, Director, Trauma and PTSD Program and Associate Professor of Clinical Psychology, Department of Psychiatry, Columbia University.
Get more information
.  Free, with suggested donation
http://prisonerofherpast.kartemquin.com/pohp.swf
http://www.kartemquin.com/
http://prisonerofherpast.wordpress.com/
George Kennedy
Alice Neel Portrait, he came top her door as a dorr-to-door saleman, than sat for a portrait.
This portrait is now published in a book of Alice Neil's paintings
http://en.wikipedia.org/wiki/Alice_Neel

ANDY
WARHOL
(1928-1987), American painter (he has a war wound that never healed, kept a compress on it)
Portrait: Alice Neel
Alice Neel harlem studio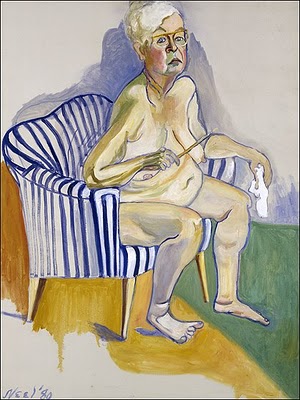 selt portrait at age 80.  "i takes guts to paint yourself like that"
Alice Neel (January 28, 1900 – October 13, 1984) was an American artist known for her oil on canvas portraits of friends, family, lovers, poets, artists and strangers. Her paintings are notable for their expressionistic use of line and color, psychological acumen, and emotional intensity.
Stumble It!